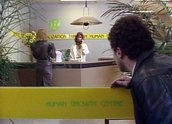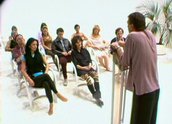 The Fast Lane - Episode 7: The Sound of One Hand Counting (1986)
Synopsis
A private detective agency run by a couple of incompetents (Terry Bader and Richard Healy) is called in to shadow the wife of a wealthy factory owner. At the same time, the agency's Girl Friday (Debra Lawrence) goes undercover to find out who is stealing from the factory floor. While the two bungling private detectives become entangled in a weekend self-awareness workshop while shadowing their quarry (Anna Maria Winchester), their Girl Friday solves the sweatshop fraud and manages to improve working conditions for the migrant women on the factory floor.
Curator's notes
It's a new take on an old theme. In this case, the two detectives in a private detective agency are the bungling snoops while their Girl Friday regularly solves the cases, in spite of being handed all the menial tasks.
This episode makes for great social satire, although at times it feels like a terrific half-hour stretched to fit a one hour format. The factory scenes are all too real with hilarious management-speak announcements by John Clarke that crackle out of the loudspeaker system onto the shop floor. The Dickensian factory is contrasted with a 'touchy feely' weekend, where the bungling detectives have registered in order to shadow the factory owner's wife. It's very funny but palls somewhat as we keep returning for more and more self-actualisation sessions with the same self-absorbed trainers and initiates.
John Clarke and Andrew Knight wrote the series. Both have become giants of the Australian film industry in the two decades since they worked on this series. Andrew Knight had been the general manager of Adams/Packer films but wanted to move into the creative side of things. He began as a script editor, scriptwriter and producer, mostly for the ABC, and over the years became the executive producer of some of Australia's best-loved and most successful dramas and comedy shows, including SeaChange (1999), Big Girl's Blouse (1994), Full Frontal (1993) and various D Generation shows throughout the late 1980s and early 1990s.
John Clarke is well known as a writer and performer across a range of genres, from his original comedy character Fred Dagg, which he brought to Australia from his native New Zealand, to the regular comedy sketch he now does for Thursday's 7.30 Report on the ABC, in which John plays whichever politician is ripe for satire that week, interviewed by straight man Brian Dawes. John Clarke is best known for The Games (1999-2000), a satire on the preparations for the 2000 Olympics in Australia, for which he both wrote and performed, again with Brian Dawes and Gina Riley, best known these days for her role as Kim in the situation comedy Kath and Kim.