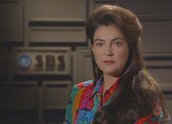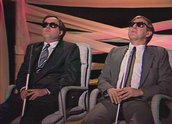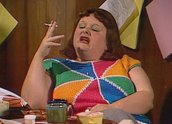 Fast Forward – Series 4 Episode 3 (1992)
Synopsis
Fast Forward is a sketch comedy series that simulates an evening of live television viewing, switching between sketches like a TV audience flicking channels.
Curator's notes
When the sketch comedy show Fast Forward premiered in 1989, the VHS era was in full swing and home video was a relatively new and exciting phenomenon. The opening credits draw on this, 'fast forwarding' through a pretend rental video copyright warning and concluding with a series of spoof video covers featuring each of the stars.
The show's main device, however, is its simulation of an ordinary evening's live TV viewing. A flicker of TV static announces the transition from sketch to sketch, as though a TV viewer with a short attention span is idly flicking between channels. Sketches are revisited several times throughout an episode, as though this imaginary viewer keeps flicking back to the same show.
As well as providing momentum and linking otherwise disconnected sketches, this device helped Fast Forward's creators produce 26 hours of comedy a year for four years.
Fast Forward mixes TV send-ups with more general character-based sketches and the occasional spot of social satire. The latter often targets banks and entrepreneurs, reflecting an era when the economic excesses of the 1980s were giving way to the '90s recession.
Fast Forward appeared at the height of the sketch comedy boom on Australian television in the late '80s which tapped into a thriving live comedy-cabaret scene in Melbourne. It was Channel Seven's answer to the huge ratings success of The Comedy Company (1988–90) on Channel 10 and the cult success of the D-Generation on the ABC (1985–87) (see D-Generation – Series 1 Episode 1, 1985; and The Comedy Company – Series 1 Episode 11, 1988).
Fast Forward boasted a number of names connected with these earlier shows, including director Ted Emery and writer-performers Magda Szubanski and Jane Turner (from D-Generation) and writer-performer Glenn Robbins (from The Comedy Company). Producer-performer Steve Vizard first worked on the The Comedy Company's lesser-known predecessor, The Eleventh Hour (1987).
Many Fast Forward alumni have continued as major figures in Australian comedy. Turner and Gina Riley created and starred in the hit sitcom Kath and Kim (2002–07), also starring Szubanski and Robbins and directed by Emery. Fast Forward features early incarnations of Kath and Kim characters Kath Day (Turner) and Kel Knight (Robbins).
The Seven Network broadcast four series of Fast Forward and a total of 90 episodes, from 12 April 1989 to 26 November 1992.