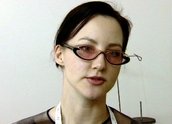 Fashionista – Naomi Goodsir (2003)
Synopsis
Naomi Goodsir is a milliner, but not just any milliner. Her creations are like sculptures. Luckily there's always a race day somewhere, otherwise she'd be out of a job.
Curator's notes
Lee Lin Chin looks great in a hat or, as it should more correctly be described, a 'creation'. And Naomi Goodsir has just the hat for her, from an amazing collection. I would have liked to see the whole hat-making process, especially as Naomi Goodsir talks about using her fashion design and pattern-making skills in her creations, as well as origami style folds.
Lee Lin Chin is an SBS icon and has been with the multicultural broadcaster since the late 1980s. Her idiosyncratic fashion style and speech mannerisms have made her a much-loved and much-parodied television personality. She was born in Singapore where she began her media career. Her fashion sense and love of designer clothing made her the natural choice as the presenter of Fashionista. She's a self-confessed fashion junkie. She loves to try on the fashion range of whichever designer she's featuring and manages to look stunning in most of the outfits. Whether she's laughing at herself in one of the designer outfits or talking seriously about the business of fashion design, the program is always interesting.