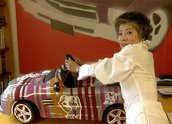 Fashionista – Mambo (2003)
Synopsis
Robert Moore loves his job and he's been at it since 1989. He designs for Mambo and creates what he likes. Mambo may or may not pick up his design but then there's always another season and one of his designs may be picked up years later when the fashion cycle changes once again.
Curator's notes
Lee Lin Chin is no surfie girl. The sight of her carrying a Mambo surfboard is quite ridiculous but she's well able to laugh at herself. Robert Moore is her guide through the weird and wonderful world of surf wear fashion and she's a willing listener. Lots of fun in the sun with this little gem and some useful information for any budding artist who sees designing t-shirts as a future career option.
Mambo is now a multi-million dollar surf wear business selling all over the world but it started in Australia with a group of young people producing graphic designs that were either politically motivated or humorous. Reg Mombassa was one of the group of art school students that began the company. His real name is Chris O'Doherty and he was born in New Zealand. He formed the rock group Mental As Anything with fellow art school students and left it in 2000 to concentrate on his art. Reg Mombassa's trademark designs for Mambo were distinctively cartoonish with vivid colours and memorable patterns including the tooting dog t-shirt that was almost the trademark of Mambo for many years.
Lee Lin Chin is an SBS icon and has been with the multicultural broadcaster since the late 1980s. Her idiosyncratic fashion style and speech mannerisms have made her a much-loved and much-parodied television personality. She was born in Singapore where she began her media career. Her fashion sense and love of designer clothing made her the natural choice as the presenter of Fashionista. She's a self-confessed fashion junkie. She loves to try on the fashion range of whichever designer she's featuring and manages to look stunning in most of the outfits. Whether she's laughing at herself in one of the designer outfits or talking seriously about the business of fashion design, the program is always interesting.