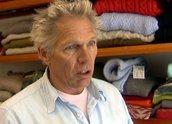 Fashionista – John Macarthur (2003)
Synopsis
John Macarthur is from the Macarthur dynasty, the pioneers of Australia's wool industry. He says he's descended from the poor relations. This John Macarthur grew up in Bombala near the Snowy Mountains and took up knitting to get through the long winters.
Curator's notes
It's fascinating to see how someone gets started along his or her chosen career path. John Macarthur was content to lead a hippy lifestyle until his knits were featured in Vogue and he became a knitting institution in Bondi, Sydney.
Lee Lin Chin is an SBS icon and has been with the multicultural broadcaster since the late 1980s. Her idiosyncratic fashion style and speech mannerisms have made her a much-loved and much-parodied television personality. She was born in Singapore where she began her media career. Her fashion sense and love of designer clothing made her the natural choice as the presenter of Fashionista. She's a self-confessed fashion junkie. She loves to try on the fashion range of whichever designer she's featuring and manages to look stunning in most of the outfits. Whether she's laughing at herself in one of the designer outfits or talking seriously about the business of fashion design, the program is always interesting.