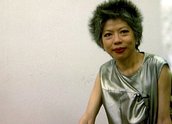 Fashionista – Alex Perry (2003)
Synopsis
There's quite a psychology to designing a wedding gown and Alex Perry has been doing it since 1984 with huge success. His passion is for every bride to look really beautiful for that special day, not to mention her mother and the bridesmaids.
Curator's notes
Alex Perry would make a terrific psychologist. He seems to understand people of all ages whether they're the bride to be, her mother, or one of the bridesmaids. There can be as many as ten fittings for a bridal gown with many difficult moments along the way.
Alex Perry is one of the best-known of Australian designers. He began his career after graduating from the East Sydney Fashion School in 1984. He almost immediately made his name as a designer of expensive evening gowns. Since 1992 he's installed his atelier in Double Bay in Sydney's eastern suburbs. His clientele includes any number of high-profile celebrities and society women. They're called 'the Perry girls' and include Elle Macpherson, Linda Evangelista and Claudia Schiffer. He's been showing at Australian Fashion Week since its inauguration in 1995 and these days has a 'ready to wear' collection for those with smaller budgets.
Lee Lin Chin is an SBS icon and has been with the multicultural broadcaster since the late 1980s. Her idiosyncratic fashion style and speech mannerisms have made her a much-loved and much-parodied television personality. She was born in Singapore where she began her media career. Her fashion sense and love of designer clothing made her the natural choice as the presenter of Fashionista. She's a self-confessed fashion junkie. She loves to try on the fashion range of whichever designer she's featuring and manages to look stunning in most of the outfits. Whether she's laughing at herself in one of the designer outfits or talking seriously about the business of fashion design, the program is always interesting.