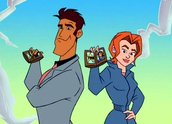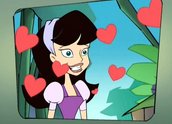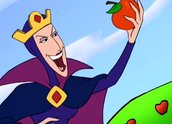 The Fairytale Police Department – Black Day for Snow White (2002)
Synopsis
Intrepid real-world Detective Chris Anderson and her bumbling partner Detective Johnny Legend have been transferred to Fairytale land, and it seems like a dream job. There is certainly a lot to do. The crimes committed in Fairytale land mean that the world's best-known fairy tales won't end the way they should. In this 'once upon a time' story, someone steals Snow White's poisoned apple before she can eat it, and suddenly the story has no ending. This time however, the real suspect is not the Evil Queen, but the seven dwarves. Using a mixture of real-world police skills and magic, and making use of their helpers – Wanda the housekeeping witch and Claude the forensic scientist frog, Detectives Anderson and Legend solve the crime and the world is restored to normal… for now.
Curator's notes
This is episode three of a 26-episode series produced as a Yoram Gross co-production with German partners EM.TV and Victory Media Group. Despite the title, which suggests a sweet little cartoon, this is a robust and very original series and loads of fun for all ages. Fairytale Police Department is a zany cross between Twisted Tales and the X Files for kids. Female detective Chris Anderson, like X Files cop Dana Scully (played by Gillian Anderson), is strong, capable and ambitious, while her bumbling, vain metrosexual partner Johnny Legend is always getting into in trouble. Other characters are also terrific with strong characterisations and great scripts.
The Fairytale Police Department was first broadcast on the Seven Network in October 2002.