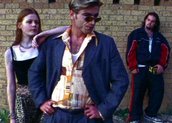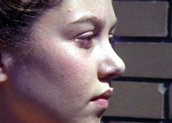 Eugénie Sandler PI – Episode Two (2000)
Synopsis
Crooked detective Matt Gurney (Martin Jacobs) detonates the explosive planted in the Sandler home but Eugénie (Xaris Miller) and Warwick (Matthew Vennell) manage to escape. Tony (Darcy Bonser), a young street kid, offers to help them only for Eugénie and Warwick to discover the street kids are in trouble too. The 'Hide and Seek' gang controlled by Detective Gurney is after the street kids – and now they're after Eugénie as well. Why is Detective Gurney chasing her? And who are the men with Russian accents?
Curator's notes
Beautifully directed by the talented award-winning director Ana Kokkinos, this is a fabulous episode with lots of innovative camera work, lighting, music and editing used to create spoofs of a whole range of detective, film noir, spy film and TV genres. The story is exciting and the young actors are terrific, especially Xaris Miller as Eugénie. Martin Jacobs also has a lot of fun in the role of crooked cop Matt Gurney.
Eugénie Sandler PI first screened on the ABC in 2001.