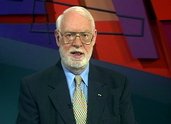 The Movie Show – Episode 13 (2004)
Synopsis
Margaret Pomeranz and David Stratton review the latest cinema releases interspersed with clips from the shows. This week, they review The Cooler with William H Macey and Alec Baldwin, the American thriller Twisted, and a new Australian road movie, Thunderstruck, about a group of friends keeping a vow they made a decade before when they were young and full of hope. There's a new Italian film called Facing The Window, a review of the latest Robert Altman film, The Company, and an interview with Eric Bana, who's back in Australia to promote the new American blockbuster, Troy, in which he plays the Greek hero, Hector.
Curator's notes
Margaret Pomeranz was one of the original producer-writers of SBS when it began as a broadcaster in 1980. She was executive producer with SBS for such programs as Front Up, Subsonics, the AFI Awards and the If Awards broadcasts. Her role in The Movie Show with David Stratton began in 1986, and in October 2006 they celebrated 20 years together on television although in mid 2004, they moved across to the ABC.
David Stratton is a former director of the Sydney Film Festival and a former critic for the international film industry magazine, Variety. He's currently film critic for The Australian newspaper. He's a recipient of the AFI Raymond Longford Award and has served as President of the International Critics Jury for the Cannes and Venice Film Festivals. He's currently lecturing in film history as part of Continuing Education at Sydney University.
The format for their show has remained much the same over the years. There's a scripted review from one of the two, coloured with clips from the film, followed by an exchange of views, often a disagreement, before they both offer their rating for the film under review. There's a maximum of five stars and they've been known to give only half a star to a dud film. Their knowledge of the world of filmmaking and filmmakers is terrific, as is their understanding of the craft of both fiction and documentary forms. And they like nothing better than to tell us about a really good new Australian film, often accompanied by an interview with the director.
The Movie Show broadcast 40 programs a year for over 18 years from 1986 to 2004.