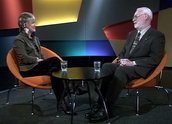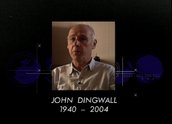 The Movie Show – Episode 12 (2004)
Synopsis
A review of the new Irish-British co-production directed by Bruce Beresford, called Evelyn followed by an interview with Bruce Beresford and a tribute to John Dingwall, the writer, producer and director who has recently passed away.
Curator's notes
Evelyn is an Irish film produced by the actor Pierce Brosnan, who made his name playing James Bond. Evelyn is said to be based on a true story although Margaret doubts its authenticity. She doesn't like the film despite its stellar cast, including the now deceased Alan Bates who plays a retired and drink sodden barrister. She thinks the film is based on a pedestrian screenplay. David disagrees and finds the story engrossing.
David Stratton and Margaret Pomeranz have been the hosts of The Movie Show on SBS since 1986. Shortly after this program they were to surprise the industry by moving to the ABC, where they began again with a similarly formatted show called At The Movies in mid 2004. Margaret Pomeranz began her career in television when SBS started as a broadcaster in 1980 and began her on-air partnership with David Stratton in 1986. David is a former director of the Sydney Film Festival and a former film critic for the international film industry magazine Variety. He is a recipient of the AFI Raymond Longford award and has also served as president of the International Critics Jury for the Cannes and Venice Film Festivals.
The Movie Show broadcast 40 programs a year for over 18 years from 1986 to 2004.