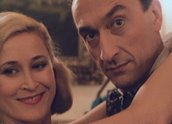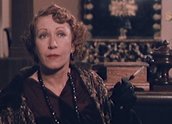 Edens Lost (1988)
Synopsis
In the late 1930s, 17-year-old Angus Weekes (Bruce Hughes), following the death of his last living relative, is invited by Eve St James (Julia Blake) to stay indefinitely with the affluent St James family on their crumbling but still elegant property at Medlow Bath in the Blue Mountains. The sophisticated society that Angus finds so attractive soon fragments to reveal a dysfunctional family. Matriarch Eve's determination to mould all their lives into a protective shell around 'Daddy' – her husband Heath St James (Arthur Dignam) – has long-reaching and generally disastrous consequences for everyone.
Curator's notes
Filmed for television on 16mm, this mini-series is based on the novel Edens Lost (1969) by Sumner Locke Elliott. As the title suggests, the characters of Edens Lost move from a state of innocence (or ignorance) into one of self-awareness. This transformation occurs to just about everyone in the story, at differing times, but the focus both in the book and its screen adaptation falls on the three women of the St James family. How these characters come by their 'loss of innocence' and how they cope is at the centre of this story.
Eve St James, the unmotherly mother, is a woman who has virtually erased her true self and sacrificed any hope of intimacy with her children in order to preserve a façade of cool detachment, which she has reason to believe is what sets her above all other women in her husband's eyes. She is the last to be disenchanted and her fall from Eden's state of grace is all the more cruel because of that.
Stephanie St James or 'Stevie' (Linda Cropper) is a mirror image of her mother, with the same passionate, obsessive nature that falls in love once and forever. Unfortunately for Stevie she fixes on the ambivalent Marcus (Phillp Sayer) early in life. When he abandons her, unable to reciprocate her feelings in any other way than sexually, she searches the world with 'opened eyes' and can find no adequate substitute.
The youngest and brightest St James, Beatrice (Victoria Longley), builds her own Eden with words. She finds almost permanent refuge from reality in several fantasy worlds of her own creation, becoming a prolific radio drama serial writer under the pseudonym DK Durfee (the DK standing for 'Don't Know'). The cracks start to show when she meets Corey (Patrick Quinn) one of the American serviceman she claims to despise, falls for him like a ton of bricks, and loses him almost immediately to the exigencies of war.
Edens Lost comes from the stable of a creative team with strong credentials, including producer Margaret Fink, director Neil Armfield and writer Michael Gow. Cinematographer Geoffrey Simpson ACS is painterly in his use of light and colour. Aided by the meticulous work of production designer Janet Patterson and costume designer Jennie Tate, he succeeds in capturing the dreamlike violet and viridian surrounds of the Blue Mountains retreat that was Eden for so many of the characters. This in turn is followed by the chocolate brown-out of Sydney in wartime (see clip two) and the affluent hospital-white sterility that is Eve's world in postwar, post-Eden America.
Two other novels by Sumner Locke Elliot have been adapted to the screen. Careful, He Might Hear You (1983) was turned into a feature film that won multiple Australian film awards, whereas Water Under the Bridge (1980) was arguably less successful when it was adapted as a television mini-series that ran for nine commercial hours.
Edens Lost first aired on the ABC in February 1989, when the three episodes were played over consecutive nights. A critical success, it won AFI Awards in 1989 for Best Direction in a Mini-series and Best Mini-series Screenplay, and also won Best Television Drama at the 1989 International Television and Movie Festival in New Jersey. Julia Blake won AFI and Sammy Awards for Best Actress in a TV Drama.