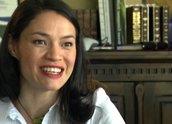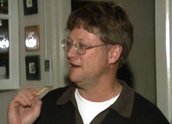 Eco House Challenge – Episode 1, Stop Your Gassing (2007)
Synopsis
Two Australian families have accepted the eco challenge to turn their lives around by changing their daily usage of water, transport, energy and waste removal. One family is led by an ex-army commando father, who uses this opportunity to teach his four children survival skills. The other, more affluent family members are consumer addicts like most of us, and begin to flounder without their usual lifestyle resources. There's a greenie eco coach, Tanya Ha, and a rules enforcer and mediator of the show, Glenn Hall.
Curator's notes
Great opening titles set the parameters of the challenge so that we have some idea right from the start just what will be at stake. Both families are introduced and Tanya and Glenn explain the ground rules. We're instantly connected and the positive tone established. This program will have a feelgood message.
The show begins with a rude shock for each family. The four hot spots of the family home will not be available for the next 24 hours. Glenn turns off the water, clamps the car, places a lock on the garbage bin and turns off the electricity. Each of them will only be returned as the family lessens its eco footprint. It's a great television idea and Glenn Hall mixes authority with a twinkle in his eye to keep things rolling along. He's well known in Perth as an actor and master of Theatresports. Tanya Ha, the eco coach who will help the families with practical tips, is a research scientist and former fashion model and the public face of Planet Ark. She's much in demand with the media because, as a parent of two children herself, she understands how to offer helpful advice to parents wanting to make their home eco friendly.
Both families go into distress mode when they must live without their usual mod cons, although the Edwards family, led by ex-army commando Spike, rises to the challenge. He shows the family how to use a tarpaulin to collect water and they automatically increase their use of public transport. Eating out becomes a huge adventure for a family used to eating at home. There's Nona, the grandmother who lives with the family, and Mary who, as a working mum, has always insisted that the kids do chores around the house.
The Shepherds, on the other hand, are floundering. They have always relied on affluence to pay for an energy-rich lifestyle and Cam's business skills are useless in the face of his family's distress.
It's a great first program with a cliffhanger at the end that really encourages us to tune in next week for more. There's also a website for those keen to extend their eco knowledge beyond the program and a competition with weekly and final week prizes. Although the Prospero web manager designed the site, SBS hosted it on their server.