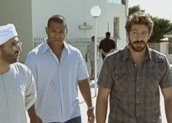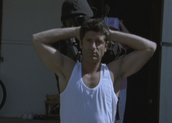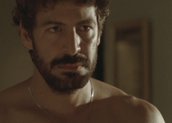 East West 101 – The Enemy Within (2007)
Synopsis
When a police officer is shot after an armed hold-up, the Lakemba Major Crime Squad go in search of men 'of Middle Eastern appearance'. As the net closes around two suspects, Detective Zane Malik (Don Hany) doubts his unit's tactics. Malik, a Muslim Iraqi-Australian, wants to work in cooperation with the Arab community to discover what really happened. His supervisor, Ray Crowley (William McInnes), has other ideas.
Meanwhile, Malik dwells on the past. His father Rahman Malik (Taffy Hany) is brain-damaged following an armed-robbery gone wrong when Malik was a child. Rahman's shooter has never been found – but Malik is determined to one day bring him to justice.
Curator's notes
The Enemy Within is the first episode in East West 101's six-part first series. It introduces protagonist Zane Malik and the show's concerns with the fault lines of a post 9/11 world. Stylistically, the show offers textured portrayals of urban environments, frenetic action scenes, visually surreal dream and memory sequences and Guy Gross's mood-defining score. The narrative structure, featuring one contained crime investigation storyline per episode as well as several ongoing story strands, is also established.
The Enemy Within's main storyline, in which the victim is a police officer and the suspects Arab, provokes the tension inherent in Malik's identity as both an Arab and a cop. Malik is a twist on the maverick detective archetype, prepared to stand against his superiors and pursue his own vision of justice. Underlining his outsider status, he is treated with suspicion by characters from both the police and the Arab communities. Nonetheless Malik is able to gain trust from witnesses who his colleagues have already approached without success.
The episode establishes East West 101's other main characters through their interactions with Malik. Malik's relationships with his father and Crowley define series one's ongoing storylines, and externalise the conflicts in his character.
Malik's desire to pursue justice for his father motivates his identity as a maverick cop and is also the reason he is an unusual one. This archetype is traditionally a loner figure yet East West 101's writers connect Malik strongly with family and community spirit.
Crowley, on the other hand, tends to embody what Malik is up against: as a racist, a proponent of a different style of policing characterised by a hardline 'us and them' mentality, and a deeply cynical and potentially corrupted figure. However, in an interesting move, as the series continues it also allows parallels in Malik and Crowley's experiences to emerge: in particular through a serial storyline that sees them both in pursuit of justice on behalf of a family member. In this respect, series one becomes a meditation on the desire for revenge.
If East West 101's scripting risks anything, it is characters' plot functions overpowering their reality as people. The creative team offset this risk through a performance approach that emphasises an off-the-cuff, rapid-fire naturalism. The cast, comprising actors and non-actors, give consistently powerful performances.