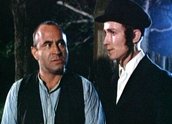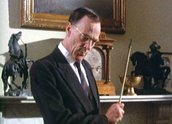 The Dunera Boys – Episode 3 (1985)
Synopsis
This four part miniseries is based on the true story of a group of Jewish refugees who fled Nazi Germany only to be treated as enemy aliens when they arrived in Britain. They were sent to Australia on the ship The Dunera to be interned as Nazi spies.
In this, the third episode, the prisoners have settled into the camp with lectures, religious teaching, music rehearsals and many other activities to keep their intellects alive. Meanwhile, this terrible mistake has been picked up by the British, but it's wartime and it'll be many months before anything is done to rectify the situation.
Curator's notes
Private Dunstan, played superbly by the Melbourne comedian Mark Little, is a young country lad in awe of these Middle-European refugees, as represented by Mr Baum (Warren Mitchell) or the great violinist Alexander Engelhardt (Joseph Spano). Private Dunstan's response is typical of the era and shows how sheltered Australia was from the maelstrom of Europe during the 30s and 40s. It wasn't until the concentration camps were exposed, and survivors began to arrive in Australia after the war, that the horror of what was happening in Europe was brought home to the population at large.