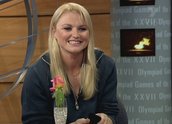 The Dream – Days 9 and 15 (2000)
Synopsis
The Dream, hosted by comedic duo 'Rampaging' Roy Slaven (John Doyle) and HG Nelson (Greig Pickhaver), was conceived as a two-hour informal nightly wrap to Seven's coverage of the XXVII Olympiad in 2000, also known as the Millennium Games or the Sydney Olympics. The show adopted a 'tonight show' format and broadcast live to air from Seven's on-site studio in the Olympic Stadium at Homebush throughout the Games, with a small audience usually made up of athletes and their support crew. It consisted of interviews, competitions, a news segment with medal tally, and filmed inserts of major highlights and some of the more esoteric sports.
Curator's notes
Andrew Denton, who collaborated with Roy and HG on an earlier 'Tonight'-style TV spoof (Blah Blah Blah, 1988), describes sport as 'representative of most of the important things in life, which are, essentially: human spirit, human cooperation, guts, determination, achievement and an acknowledgement that your time of glory is but fleeting'. The Dream attempted and successfully captured the essence of these important things with its light and informal tone and style.
There were scandals – like the upset caused by 'the people's mascot', Fatso the fat-arsed wombat (clip one) – and funny bits, such as the terms the pair coined for gymnastic and wrestling moves. There were also moments that recorded the joy of the athletes who participated (clip two and clip three) and the enormous good humour and pleasure of the crowd. If The Games (1998-2000) is about what could go wrong in the lead up to the Olympics (see The Games – Series 1 Episode 8, Rural and Environment, 1998), The Dream is about everything that was essentially right about the Games – including what actually went wrong.
Roy and HG have been on the public radar since the mid-'80s when they first paired up on ABC Radio's 2JJJ (now triple j) to present a live commentary of the commercial television coverage of the annual State of Origin rugby league clash. It was an inspired move; improvised satire mixed with a genuine involvement in the game, in a casual setting. The style, including the invention of new terminology for various sporting techniques, became their trademark. As Pickhaver described in an interview with Murray Bramwell in 1991:
What we've tried to do is take what was happening in the lounge rooms of Australia and actually just put a couple of mikes in front of it … you can go to any game and hear better comments in the crowd behind and adjacent to you than you do on the TV.
They also list well-known DJ John Laws as a major inspiration, citing his ability to argue vociferously for one point of view at the beginning of his show, only to wind up arguing just as forcefully against it by the end.
Whatever the influences, the irreverence, inventive language and undoubted passion Roy and HG brought to the art of sporting commentary delighted rugby league fans at the time and won over more than a few of triple j's audience who had no previous interest in any kind of sport. A regular gig with triple j followed within weeks and this program, This Sporting Life, ran until 2008 when Roy and HG moved to the Triple M network with their show entitled The Life (2009–11).
When not doing their day job, Roy and HG moonlight, respectively, as John Doyle, an award-winning television dramatist responsible for works like Changi (2001) and documentaries like Two Men in a Tinnie (2006), and Greig Pickhaver, a highly sought-after speaker and writer of humorous books such as Petrol, Bait, Ammo and Ice (1996) and Sprays (2008).
The Dream aired nationally for two hours late in the evening on every night of the Sydney Olympics except the first and last, from September 16–30. It was made available to Olympic broadcasters internationally, giving it a potential audience of billions. On its final night in Australia alone The Dream scored an audience of 2.54 million viewers, according to AC Nielsen ratings. In the 2001 Logies it won the award for Most Popular Sports Show but lost out to The Games (1998–2000) for Most Outstanding Comedy.