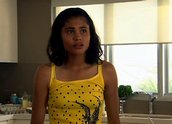 Double Trouble – Episode 7 (2007)
Synopsis
Double Trouble is about twin sisters previously unknown to each other – one lives in Alice Springs, the other in Sydney. The twins accidentally cross paths and decide to swap identities.
In this seventh episode of the series, changing places proves potentially harmful to Yuma (Cassandra Glenn) when she gets lost in the desert. Meanwhile in Sydney, Kyanna (Christine Glenn) gets the cold shoulder from Sasha (Basia A'hern), who dumps 'Yuma' (Kyanna) as her dance partner.
Curator's notes
Kyanna and Yuma's attempts to fool their respective family members become increasingly difficult to maintain as the series continues. Double Trouble has entertaining and likeable characters and boasts an experienced cast. It wonderfully captures an Indigenous sensibility and humour, with some of the finest Indigenous filmmakers involved in the making of this series.