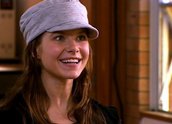 Double Trouble – Episode 4 (2007)
Synopsis
Double Trouble is about twin sisters previously unknown to each other – one lives in Alice Springs, the other in Sydney. The twins accidentally cross paths and decide to swap places.
Curator's notes
This is a delightful episode of Double Trouble in which Yuma (Cassandra Glenn) goes to get bush tucker with her family. Having never experienced the gathering of honey ants, witchetty grubs and bush bananas, Yuma soon finds that the food doesn't actually taste that bad. For Kyanna (Christine Glenn) however, it's a bit more difficult. Yuma's snooping brother Heath (James Fraser) threatens to blow the sisters' little scheme and city life is proving to be a challenge.
Double Trouble allows a cultural exchange to happen for the audience as well as the characters, as we follow the sisters' adventures being 'fish out of water'.