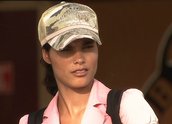 Double Trouble – Episode 1 (2007)
Synopsis
Double Trouble is about twin Indigenous girls, both born in Alice Springs but separated at birth and unaware of each other's existence. The twins accidentally cross paths and decide to swap places.
In this, the opening episode of Double Trouble, we are introduced to the family of Yuma (Cassandra Glenn), a young Indigenous woman who lives in the city. Yuma lives with her father Henry (Myles Pollard), brother Heath (James Fraser) and stepmother Roz (Jen Apostolou). Yuma asks her father, who is an art dealer, to take her with him on his trip to Alice Springs, where she was born. It is in Alice Springs that Yuma meets her twin sister Kyanna (Christine Glenn), and quickly the twins concoct a plan that sends them on an adventure.
Curator's notes
Double Trouble is in the vein of Parent Trap (1961, starring Hayley Mills, and remade in 1998 with Lindsay Lohan), but with an Australian spin. It is an entertaining children's program that offers insights into the lives of young people living in the Alice.