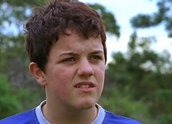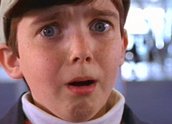 Don't Blame the Koalas - Episode 1, Fate Steps In (2002)
Synopsis
When Mrs Medlow (Eileen McEwan) dies, Kate King (Basia A'Hern) and her brothers Mark (Shaun Loseby) and Chris (Henry Nixon) discover that some unknown English relatives have inherited their run-down wildlife park, Wallaby Park. They look forward to the arrival of their cashed-up cousins, seeing them as the only way to save the park from ruin. However, in the UK, widow Gabrielle King (Fiona Terry), her pretentious, self-centred daughter Gemma (Hollie Chapman) and adventurous young son Gregory (Liam Hess) have just discovered that they are completely penniless and this Australian inheritance is all they have left. Imagining it to be a profitable sheep station, Gabrielle packs her family up to head off to Australia. She plans to sell it and get home again as quickly as possible.
Curator's notes
This introductory episode of the 26-part series establishes the main characters, the key setting and story set-up. The contrast between the two King families is clearly established from the beginning, setting up the inevitable misunderstandings and culture clashes that are the lifeblood of a drama such as this. The ensemble children's cast is a terrific mix of young actors, with young British actor Liam Hess deservedly winning the 2003 AFI Award.
Don't Blame the Koalas first screened on the Nine Network in 2002.