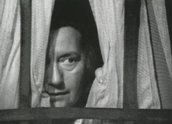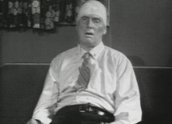 Division 4 – The Return of John Kelso (1971)
Synopsis
When former standover man John Kelso (John Fegan) returns home on parole after 20 years in prison, the neighbours in his small suburban street are terrified. Two decades ago they were in his thrall: now they fear his reign of terror will start again and retaliate with a vicious assault. When the Yarra Central detectives investigate, nobody in the small, closed community is willing to speak.
Curator's notes
This superb hour of drama was Division 4's most awarded individual episode, winning a Penguin Award, an AWGie Award and a Logie for guest star John Fegan. Fegan was one of Australia's first on-screen detectives as Inspector Connolly in Homicide (1964-75). Here he steps over to the dark side, playing a notoriously sadistic standover man. Or so it seems to begin with.
In the first part of the story, writer John Dingwall allows Kelso's character to be defined by his reputation and the way other characters treat him. Fegan plays him as a shambling, confused old man but the terrified reactions of those around him make us suspect he is planning something terrible. Apparently innocent comments become infused with menace (see clip one). However, as the episode wears on and there are still no signs of vicious behaviour from Kelso, we start to wonder whether perhaps he really is now a helpless old man, broken by his time in prison.
As this dawns on the neighbours as well, the suspense initially created by Kelso is replaced by a new tension. The question 'What will he do to them?' is replaced by the question 'What will they do to him?'. The story becomes a striking, disturbing portrayal of the cruelty of a community seizing the opportunity to terrorise the man who once terrorised them.
While the drama plays out in the small street – for the most part away from the eyes of the police – Dingwall takes the opportunity to explore themes of patient rehabilitation, using interactions between Vickers (Chuck Faulkner) and Kelso's parole officer (Keith Eden), who clash over whether a man with a history such as Kelso deserves any sympathy.
There is a theatrical quality to both the dialogue and performances, with shades of classic melodrama and the brooding menace of a Tennessee Williams play. It's possible this theatricality would be hard to get away with in a contemporary Australian cop show – here it works, as a portrait emerges of a community who communicate in whispers. The tiny street becomes a stage set of sorts. In a running motif, the neighbours often watch the spectacle outside from behind closed curtains (see clip two).
The mood of simmering tension and claustrophobia in the street is expertly rendered and the supporting cast deliver deliciously malicious performances as Kelso's neighbours. Fegan, as Kelso, delivers some heart-rending moments. Shirley Cameron also gives a stand-out performance, as Kelso's ex-wife Lil.
While a dark melodrama plays out on the street, the detectives are their usual selves – wry, no-nonsense and hard-edged. This, along with the use of framing, light and shadow on high-contrast black-and-white film stock, is reminiscent of film noir and a hardboiled detective tradition.
Gerard Kennedy stars in the popular role of Banner that saw him win a string of Logies over Division 4's six years. Like Fegan, he has recently made the switch to playing a notorious criminal, Graham 'The Munster' Kinniburg in Underbelly – Series 1 (2008). Kennedy also appeared as 'baddie' Kragg in Hunter (1967–69) – a villain so popular the series creators made him defect to the 'good' side.
A total of 300 episodes of Division 4 screened on Channel 9 from 1969-75, changing from black-and-white to colour with episode 232. The Return of John Kelso is episode 100.