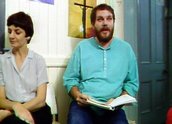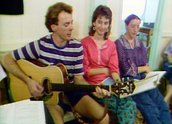 Divine Service – The House of Freedom Church, Brisbane (1986)
Synopsis
A service is held in the House of Freedom in the inner city Brisbane suburb of West End, with a population of migrant, Aboriginal and working class Australians. This Christian community began in 1972 and its origins are explained by Trevor Jordan, one of the original members. The group is involved in a wide range of peace activities, especially in the International Year of Peace proclaimed by the United Nations in 1986.
Curator's notes
From its earliest days, the ABC charter stated that the broadcaster was to provide adequate and comprehensive broadcasting, which included religious programs. When the charter was updated in 1983, it included new directives to innovate and 'to reflect the cultural diversity of the Australian community', which allowed the Religious Department of the ABC to broaden its brief as well.
This program is an example of the series covering different styles of religious observation, as the service takes place in the living room of a suburban house. Breaking with the Divine Service norm of live broadcast, this week's program is prerecorded, shot in documentary style and edited before broadcast.
Over the years, church groups kept a watching brief on the ABC's output to ensure it didn't drift too far towards humanism and away from programs that reflected the established religions. Nevertheless, by the end of the 1980s, religious programs were fast disappearing from the ABC's output and the last broadcast of Divine Service was in July 1987, the year following this episode. These days, the ABC's religious department is called 'Religion and Ethics' and produces the high-profile series Compass, broadcast on Sunday evenings and presented by Geraldine Doogue.