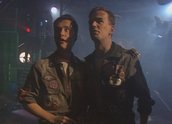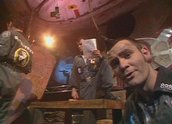 DAAS Kapital – Faith (1992)
Synopsis
Giant global conglomerate Shitsu Tonka Corporation has taken over the earth. The Doug Anthony All Stars (Tim Ferguson, Richard Fidler and Paul McDermott) are stranded aboard Titanic 2, a giant submarine carrying the world's great art treasures and historic artefacts. Shitsu Tonka entrusted the All Stars with the task of cataloguing these works, while secretly planning to destroy the Titanic 2 and everything on it as part of their goal to erase history.
In this episode, Tim, Richard and Paul discover that the explosion that was intended to destroy them has instead catapulted the Titanic 2 into space. Their old friend – or is it enemy? – Flacco (Paul Livingston) turns out to be their closest neighbour in space after also surviving the blast.
Curator's notes
The Doug Anthony All Stars started out on the live performance circuit at events like the Edinburgh Comedy Festival, as well as taking their high-octane act to the street as buskers. From there, they appeared on UK TV show Friday Night Live (1988) with Ben Elton, before becoming regulars on ABC's similarly formatted live comedy program The Big Gig (1989–92, see The Big Gig – Series 1 Episode 1). Along the way, they picked up a cult following. Next, The Big Gig producer Ted Robinson produced the All Stars's own series, DAAS Kapital.
Their short spots on The Big Gig rocket between songs, physical comedy and rapid-fire imaginary scenarios. Tim, Paul and Richard, dressed like uniformed members of an imaginary militia who've formed a band, play fictional versions of themselves. Tim's persona is a narcissistic 'pretty boy', Paul's a twisted aggressor, Richard's a naive innocent constantly picked on by the other two. The trio's act boasts heavy doses of the nonsensical and the bizarre, plus dashes of sexual innuendo, cartoon-style violence and deliberate tastelessness.
DAAS Kapital develops this routine into a weekly half-hour, trapping the trio together on a futuristic submarine. Although the series follows a story of sorts, the premise mostly acts as a vehicle for an extended version of their act, providing departure points for absurd scenarios, physical routines and songs. Each episode's reasonably slender plot progresses in a stream of consciousness fashion that has a quality of kids playing make-believe, despite some decidedly adult themes. An overt reference to playwright Samuel Beckett's Waiting for Godot (1953) underlines the point that this story is not overly concerned with where the DAAS are headed but how they pass the time. They are eternally awaiting the arrival of a mysterious character or ship called Godot, to announce the end of their mission.
This scenario brings to mind John Carpenter's terrific existential comedy sci-fi movie, Dark Star (1974, US), which was also a kind of countercultural Waiting for Godot set in space. A perhaps more obvious comparison is British cult sitcom Red Dwarf (1988–99), another show about an eclectic bunch of personalities trapped together on a spaceship. In some respects, in its style DAAS Kapital recalls a different set of British comedies. British radio series The Goon Show (1951–60) and TV series The Goodies (1970–82) and The Young Ones (1982–84) are examples of narrative comedies that place comic personas in absurd, make-believe inflected worlds. A more recent example is The Mighty Boosh (2004–07).
Fellow comedians Mark Trevorrow (as Bob Downe) and Paul Livingston (as Flacco) make weekly appearances. Downe stars in the Shitsu Tonka Corporation advertisements regularly beamed into the submarine. The delightfully surreal Flacco, another regular on The Big Gig, often pops up in a kind of genie role. Paul McDermott later became the host of the comedy news-quiz series Good News Week (1996–2000, 2008–current), another Ted Robinson project.
The Doug Anthony All Stars name makes absurd reference to a former politician in the Australian National Party. Doug Anthony was deputy prime minister of Australia from 1971–72 and 1975–83.
DAAS Kapital ran for two seasons on the ABC in 1991 and 1992. 'Faith' is the first episode of season two.