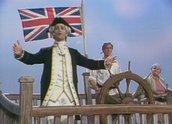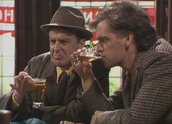 D-Generation – Series 1 Episode 1 (1985)
Synopsis
The D-Generation is a half-hour sketch comedy series. This episode delivers sketches on the theme of 'Australia', including parodies of Australian media, cultural stereotypes, history, race relations and attitudes towards immigration. With Australia's bicentennial year, 1988, on the horizon, there are vox pops on 'what Australia means' to a series of local and international characters. The 'bicentennial soap opera' is unveiled. In other sketches, an American nuclear bomb strike accidentally destroys Wollongong but the Australian government hopes this won't sour the two nations' good relationship. The governor-general Sir Ninian Stephen (Rob Sitch) announces that Britain has floated Australia on the stock market.
Curator's notes
D-Generation's credits read like a who's who of two decades' worth of Australian comedy, but at the time these comedians were relative unknowns, scouted by the ABC after their popular appearances in student comedy revues at the University of Melbourne. The group had taken their 1984 student revue 'Let's Talk Backwards' on a national tour that ended with a season at the Last Laugh, one of the key venues in Melbourne's bustling '80s live comedy scene. This, their first, energetic sketch comedy show, ran for two seasons on the ABC in 1986 and 1987.
As well as its now famous performers, D-Generation is also notable for the multiple, fruitful working relationships it sparked. Santo Cilauro, Rob Sitch, Tony Martin and Tom Gleisner next worked together on a D-Generation radio show and then the ABC cult hit The Late Show (1992–93), a live, late night stand-up and sketch comedy series. Michael Vietch, Marg Downey, Magda Szubanski and Jane Turner continued into Channel Seven sketch comedy series Fast Forward (1989–92).
A game of 'spot the D-Gen alumni' in Australian comedy since then makes a long list. It includes Kath and Kim (2002–07), helmed by Turner and Gina Riley, also starring Szubanski and with Downey and Martin popping up in guest roles. Then there is production company Working Dog, whose team includes Sitch, Cilauro and Gleisner and whose credits include the satires Frontline (1994–97) and The Hollowmen (2008), chat show The Panel (1998–2004), improvisation series Thank God You're Here (2006–current), and comedy feature films The Castle (1997) and The Dish (2000).
The D-Generation finds a meeting point between satire, send-up and silliness on subjects ranging from politics to relationships. As well as character and situation-based comedy, media send-ups like advertising spoofs and fake TV dramas begin a preoccupation visible in later work like The Late Show and Frontline.
This episode, the first, focuses on Australia and Australianness. Making reference to the then-upcoming bicentennial year, it satirises the pursuit for self-definition that goes hand-in-hand with such national celebrations by pointing out both the mundane and the problematic sides of Australia's nationhood. Captain Cook dreams of the shopping centres, lawnmowers and glass-blowing workshops of the future (clip one), while a sketch reinvents European attempts to bargain with Aborigines for ownership of the land, this time for some marbles and a digital watch.
For another take on Australian identity in the lead-up to the bicentenary, see the short mockumentary Babakiueria (1986). Other series that drew their performers from the Melbourne live comedy scene in the '80s included Australia, You're Standing In It (1983–84), The Big Gig (1988–89, see The Big Gig – Series 1 Episode 1) and The Comedy Company (1988–90).