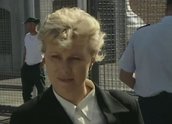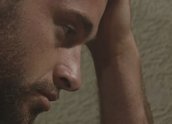 Correlli – Rat Tamer (1995)
Synopsis
Prison psychologist Louisa Correlli (Deborra-Lee Furness) is romantically involved with convicted armed robber Kevin Jones (Hugh Jackman), inmate of the fictitious all-male prison Blackstream. This episode introduces us to both leading characters and suggests their mutual attraction. The episode also shows Officer Ben Costa (William Zappa) struggling with anxiety following the recent death of a good friend and fellow officer, his failed marriage and denial of access to his daughter. A hard-drinking and gambling lifestyle, long working hours and the consequent lack of sleep sends Costa into a spiral of despair that Correlli can do little about.
Curator's notes
Directed by Kate Woods, this episode is a feature-length introduction to the 10-part Correlli series, a large proportion of which was shot in the rapidly emptying HM Prison Pentridge, in the Melbourne suburb of Coburg. Pentridge, also known as the 'Bluestone College', was officially decommissioned by 1997 and is now a heritage-listed site struggling to survive encroaching urban development. Kate Woods has a particular talent for establishing a sense of place and uses the historical building very effectively, building a convincing world out of a myriad of images incorporated seamlessly into the narrative. Actual prison warders and ex-prisoners fill out the ranks of extras, adding to the realism (see clip one).
Deborra-Lee Furness stars as Louisa Correlli, an idealistic woman whose career as a psychologist was interrupted by marriage and children. Returning to work is more a matter of necessity than ambition for her as she finds herself with a failed marriage and two children to support. A graduate of New York's American Academy of Dramatic Art, Furness was an established name in Australia, with a string of major credits in series like Kings (1983), telemovies such as Glass Babies (1985) and for her memorable role as the motorbike-riding legal vigilante in Shame (1988). More recently she returned to the screen with an award-winning performance in Jindabyne (2006). Hugh Jackman is the newcomer cast opposite this formidable actress, as the charismatic and apparently very vulnerable Kevin Jones. Just a year out of WAAPA this was Jackman's first major role.
Furness and Jackman met on the Correlli set and married the following year. In many ways their real-life romance has overshadowed their notable performances in this production. Furness has the more difficult job in Correlli's journey and she plots her character's emotional arc with intelligence and precision. The naiveté she must demonstrate in these early beginnings is helped by Jackman's terrific portrayal of a brain-damaged personality whose motor reflexes and cognitive skills have been severely damaged by the beating he received prior to induction at Blackstream (clip two).
Other excellent performances come from Sue Jones and William Zappa, the featured guest in this episode. Jones plays Sister Pat, a nun 'in civvies', attached to the prison's psychology unit. She projects layers of subtext (explored later in the series) and the character's tricky combination of compassion and scepticism with quiet skill. Zappa, as the intensely troubled Officer Ben Costa, demands our attention at every stage of his descent.
There are six directors and as many writers attached to the project but Correlli as a whole is the creation of Carol Long and actress Denise Roberts, who are also credited as associate producers. Roberts, well-known to Australian audiences from regular roles in GP (1989–96) and All Saints (1998–2009), appears as Officer Helen Buckley in episodes four and five. Almost a decade after the show was made it emerged that Correlli was loosely based on the true story of Roberts' own brother and his relationship with a prison psychologist. Those interested in following up the drama behind the story can refer to January 2006 reports relating to the escape from Long Bay Prison Hospital of Robert Cole.
Rat Tamer first screened on the ABC on 26 July 1995 and was the first episode of Correlli. The other episodes screened weekly until September 1995 and were each 50 minutes in length.