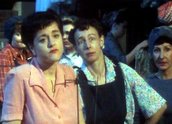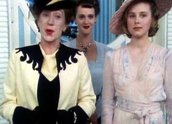 Come In Spinner (1989)
Synopsis
This is the story of women in wartime – those left behind while the men are away fighting. It's the story of three very different women who work in a beauty parlour attached to a luxury hotel, during the Second World War. It's 1944 and the tide is turning against the Japanese in the Pacific, while American forces, waiting for their final push through the Pacific Islands, have made Sydney a gaudy, hectic garrison town. At the centre of the action is the South Pacific Hotel, one of Sydney's finest. It's modelled on the Australia Hotel, demolished during the 1960s but a legend during the wartime era.
Curator's notes
Come In Spinner is based on the book of the same name written by Florence James and Dymphna Cusack. At the time of the adaptation by Nick Enright and Lissa Benyon, one of the authors, Florence James, was still alive and was involved at various stages in the scripting of the series. She had to be convinced that the television series would remain true to the feminist nature of the book in which the three women at the centre of the drama are at once enormously feminine and yet determined to stand on their own two feet. They yearn for love, security and the opportunity for happiness, amidst the social upheavals of war where marriages are strained and values tested.
The title of the series and the book refers to the shout that goes up as the coins are thrown in the air in a game of two-up. It's long been illegal in Australia to play this game, which was tremendously popular on the goldfields and in the bush where men could lose their shirts when the gambling bug struck.
The series stands out for its magnificent costumes and the overall sense of wartime Sydney. Janet Patterson was the designer and the blue and white of the salon is inspired. Janet Patterson has been nominated 3 times for an Oscar since those early years with the ABC design department.
However, the real inspiration of the series is the casting of the three women. The then head of the drama department who brought the book to the ABC was Sandra Levy. Both she and the producer, Jan Chapman, knew that the series would stand or fall on the chemistry between the lead actors, Lisa Harrow, Kerry Armstrong and relative newcomer Rebecca Gibney as the young Guinea. They do not disappoint.
The series won a slew of AFI awards and the music from the series, arranged by Martin Armitage and performed by Vince Jones and Grace Knight, sold really well, with the CD going platinum in the early 90s.