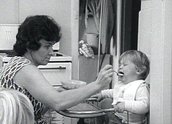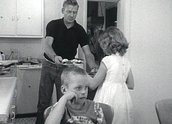 Chequerboard Revisited – Episode 3: I Reckon I'm an Average Australian (2000)
Synopsis
Kevin and Margaret have four young children. They are a working couple, a rare phenomenon in the late 1960s when they first appeared on Chequerboard (1969-75). They were filmed again in 1972, when Kevin blamed feminism for his wife's new assertiveness. It's now 2000 and the original researcher, award-winning director Aviva Ziegler, has caught up with the couple to find out what has happened in their lives in the intervening 30 years.
Curator's notes
Is there anything more extraordinary than exploring the human condition by following one family through several decades? Thus the massive success of the still ongoing longitudinal study, Michael Apted's Seven Up (1964). This story is no exception. When we first meet Margaret, she's the dutiful wife with four young children. Just five years later, she's feeling much more self-assured. She holds down a job and insists that Kevin should help around the house and not spend so much time and money in the pub with his mates.
When we see them both in 2000, Margaret has finally left Kevin, who was unable to change to meet her growing needs. She's found a new husband, while Kevin has been content to remain more or less alone, still not comprehending what happened. It's essentially a story about the winners and losers in any great social revolution, in this case the women's movement.
Robin Hughes, one of the originators of Chequerboard back in 1968, says that the concept came out of a group of broadcasters at the pub discussing their favourite BBC program, Man Alive (1965). They wanted to make documentaries in the same style 'without on-camera experts, simply people in situations that shaped their lives', as she recalls it. The basis of each Chequerboard program was an interview interspersed with 'colour' footage of that person going about their life. Only later did they realise that this 'fly on the wall' method was the very beginning of 'observational' documentary filmmaking in Australia, in the tradition of Fred Wiseman. The technique was later brilliantly used by the Australian filmmaking duo of Robin Anderson and Bob Connolly.