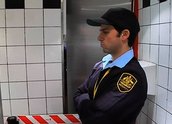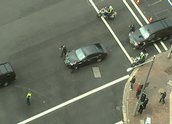 The Chaser's War on Everything – APEC Episodes (2007)
Synopsis
Episodes 14 and 15 of The Chaser's War on Everything's second series contain the usual combination of comic pranks, commentary and send-ups, responding to current news and more general subjects. Many of the topical segments satirise the heavy security surrounding the APEC Summit that was on at the time.
In Episode 14 these include an attempt to deliver 'bogan' uniforms for world leaders to the security zone, conducting random APEC security checks on members of the general public and entering Taronga Zoo dressed as native wildlife to replace animals removed for private viewing by the spouses of world leaders. In Episode 15 the series of pranks culminates in a fake Canadian motorcade passing several checkpoints in the secure zone, carrying Chas Licciardello dressed as Osama Bin Laden.
Curator's notes
The APEC Summit in September 2007 was attended by 21 world leaders including American President George W Bush and was expected to attract crowds of protesters. 'Australia's biggest ever security operation', according to media, was put in place. This included the creation of a restricted zone enclosed by 5 km of temporary fencing in central Sydney, the passing of new laws surrounding unauthorised entry into the zone and the deployment of military and police on land, sea and in the air.
The Chaser comedians were able to harvest a rich crop of comic material from this situation. Gags like the APEC Zoo Animal sketch successfully poke fun at absurdities inherent in the pomp surrounding such events, while random 'security checks' raise more unsettling questions. Had security not allowed the false motorcade past, this stunt may not have stood out – indeed, there were plans for further stunts including an attempt to access the secure zone by sea. As it is, the surprising response of APEC Security takes the adage 'it's funny because it's true' to another level and becomes the focus of Episode 15.
Fallout from the stunt included the arrest of 11 Chaser cast and crew, national and international media coverage, questions raised about APEC security and skyrocketing ratings for the ABC. Episode 15 of the War on Everything garnered an audience of almost 2.3 million viewers, up from their previous record of 1.48 million and the highest ABC audience since 2000 (for Seachange, 1999–2001). In April 2008, seven months later, charges against the team were dropped.
The Chaser's APEC material underscores the power and entertainment value of the unexpected in this type of comedy but also highlights the legal and creative juggling act involved in bringing it to air on a weekly basis (see clip two).
Season two of The Chaser's War on Everything aired on the ABC in 2007 in a popular Wednesday night comedy timeslot, followed by Summer Heights High (2007) and preceded by Spicks and Specks (2005–current). Episode 14 went to air in the week preceding the APEC Summit, while episode 15 went to air the week after.