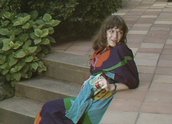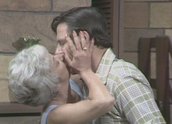 Certain Women – Episode 166 (1976)
Synopsis
Certain Women follows the lives of the Lucas and Stone families and their various relations by blood and marriage. In this episode, Helen Stone (Jenny Lee) has arrived home from England, heavily pregnant and without her husband, Michael Fraser (Ivor Kants). Feminist Freda Lucas (June Salter) has been offered the position of Family Court Circuit Judge, a position which not only questions her whole anti-marriage stance but places in jeopardy her long-standing relationship with Barry Gardiner (Brian Wenzel). Helen has a fall next to Freda's swimming pool, but Barry is there to take her to hospital in time to deliver a healthy baby. When Michael returns to Sydney, sister-in-law Marjorie Faber (Diane Craig) is able to give him the advice he needs to save his marriage. Finally, fed up with Barry and Freda's uncertain wedding plans, Alan Stone (Ron Graham) announces at a family gathering that Barry and Freda are engaged to be married.
Curator's notes
Creator-writer Tony Morphett stayed with the show throughout the four years of its production and, in fact, wrote this final episode. This gave Certain Women a consistency in style as well as characterisation. In terms of serial-making it is a real credit to both writer and cast that even in the final episode we find it natural and plausible that Helen and Michael are still arguing about whether their newborn baby will be called Karl Marx Fraser or Winston Robert Menzies Fraser and Freda is still protesting that marriage is not a suitable institution for an independent, intelligent woman.
In this final episode, life has finally become settled for many of the Stone-Lucas clan. Young Marjorie, after being widowed early and bringing up her young son Fred (Benjamin Craig) alone for three years, has finally married her landlord, Peter (Shane Porteous). She deems Peter 'the only perfect man in the family who doesn't have to be taught how to express emotions'. Her father Alan, after years in the city working as a used car dealer and taxi driver, has taken his wife Jane (Joan Bruce), matriarch Dolly Lucas (Queenie Ashton) and son Damon (Matthew Crosby) back to the bush to live. In doing this they are fulfilling a dream they have shared since early in the series and which marked the beginning, in the general community, of what is now known as a 'tree change' (see also SeaChange – One of the Gang, 1998).
In 1975, the federal government introduced a compulsory commercial television drama quota. Commercial television channels, which had previously relied largely on imported drama, were forced to produce a minimum number of hours of local drama. The most cost-efficient way to do this was to produce ongoing serials. As a result, many of the actors from Certain Women became regulars in the newly appearing commercial serials and are perhaps more widely recognised in those roles.
Shane Porteous became the doctor and Brian Wenzel the local cop in the long-running A Country Practice (1981–93) which also featured Queenie Ashton and Diane Craig. June Salter became a mainstay of The Restless Years (1977–81) and Joanne Samuel, prior to playing Mel Gibson's ill-fated wife in Mad Max (1979), was a regular in The Young Doctors (1976–83).
Perhaps the greatest beneficiary of the explosion in serial and series drama has been Tony Morphett. In the last 40 years, he has written hundreds of episodes on projects like Blue Heelers (1994–2006), Water Rats (1996–2001) and Sea Patrol (see Sea Patrol – Cometh the Hour, 2007).
Certain Women was first made as a mini-series in black-and-white in 1973. This episode, in colour, was recorded on 8 November 1976 and went to air as the final episode of the series in December of that year.