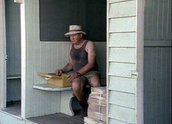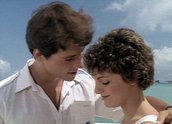 Butterfly Island – Series 1 Episode 1 (1985)
Synopsis
The Wilson family run an unspoilt resort on Butterfly Island, despite financial troubles and strong competition from new glamorous resorts nearby. In this first episode of the series, a young Vietnamese refugee (Phu An Chiem) arrives and unwittingly becomes involved in a developer's criminal attempt to force the Wilson family off the island.
Curator's notes
Butterfly Island is an example of home-grown drama from the 1980s 'golden age' of Australian television, when the number of high-quality Australian-made dramas reached a peak. In 1980, it was estimated that eight of the ten most popular programs screening on television were produced in Australia. Government funding injected into Australia's film and television industries via the introduction of a tax concession (known as 10BA) encouraged investment in local production. Australian television also went global in the 1980s, with shows like Butterfly Island finding overseas audiences.
Butterfly Island was a topical series, reflecting controversy surrounding the influx of refugees from Vietnam in the 1980s (following the fall of Saigon in 1975). The refugees, often referred to as 'boat people' by the media of the time, arrived in large numbers and presented a challenge to the government's immigration policies and the attitudes of Australian people. In 1978, the first boats reached Darwin. By 1985, 70,000 refugees from South-East Asia, mostly Vietnam, had settled in Australia (see clip three).
The series also touched on the rapid increase in Great Barrier Reef tourism during the 1980s. Technology and improved air access, combined with a rapid worldwide rise in recreational travel, transformed reef tourism in the '80s. Consequently, the number of companies involved in the industry increased dramatically, as did the numbers of visitors. In the early 1980s, this was estimated at 150,000 visitor days per year (40 times the visitation numbers of the pre-1950 period). In 1987, this had risen to 450,000 and the pressure to create luxury resorts led to concerns of over-development.
The series features the multi-award winning composing partnership of Garry McDonald and Lawrence Stone who also composed musical scores for Jonathan M Shiff Productions Cybergirl (see Cybergirl – Series 1 Episode 1, 2000), Ocean Girl (1994–97) and Thunderstone (1999–2000). During the '80s they also composed scores for adult television series for Crawford Productions, including The Flying Doctors (see The Flying Doctors – Public Property, 1986) and The Henderson Kids (see The Henderson Kids – Series 1, Episode 2, 1985), and Neighbours (1984–1999) for Grundy's.
Series one of Butterfly Island premiered on 15 July 1985 on the ABC. The second and third series were broadcast on the Seven Network, with the final episode airing on 8 August 1993.