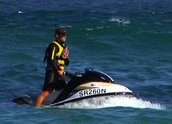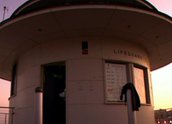 Bondi Rescue – Series 2, Episode 7 (2007)
Synopsis
A tragedy unfolds at Bondi Beach when the lifeguards see someone in difficulty in treacherous water who then disappears from view behind the waves. There are 20,000 people at the beach that day and when no-one is reported missing, the lifeguards desperately hope that the person in difficulty was somehow able to leave the water. Two hours later a 16-year-old reports that his father is missing and the lifeguards are plunged into despair.
Curator's notes
In the first series of Bondi Rescue, filmed during the summer of 2006, there was a near drowning when a Japanese student was discovered face down in the water and was resuscitated with the use of the paddles to restart his heart. This time, a new arrival to Australia who can't swim, a Mongolian doctor with a young family, loses his footing in a rip and is soon lost to view. With all the lifeguards' skills he can't be found. Two hours later the rescue helicopter finds a body under the water and he is pronounced dead by ambulance personnel after a futile attempt to revive him.
The producer of the series Michael Cordell, and the broadcaster Network Ten are to be commended for the sensitivity with which this tragic story is told. The program opens with one of the lifeguards, nicknamed Whippet (otherwise known as Ryan Clark), alerting us to the content of the program to follow. A fund was set up by the broadcaster and producer for the family left without its breadwinner to which viewers generously contributed. The lifeguards hope this program will help to emphasise the very real dangers of the surf. The family returned to Mongolia and soon afterwards sent a letter to the lifeguards. It's a moving tribute to these dedicated men and women who patrol the beach even when, as in this case, they are unable to avert a tragedy.
This episode is for everyone who visits the beach. It's about the unforgiving nature of the sea and the need for all beachgoers to be aware of the dangers of ocean swimming, even on a patrolled beach.