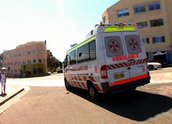 Bondi Rescue – Series 1, Episode 4 (2006)
Synopsis
A young man is found lifeless in the water on a surprisingly calm day. With no breath and no pulse, a frantic resuscitation begins.
Curator's notes
In each program, the lifeguards are seen dealing with lost children, blue bottle stings or a pervert on the beach but this week there's the potential tragedy of a near drowning. Suddenly we understand why the lifeguards stay at peak fitness and keep up-to-date with their rescue techniques.
For several weeks during the summer of 2006, the filmmakers had seven cameras at Bondi Beach from dawn to sunset each weekend, filming the reality of Australia's most popular beach where as many as 40,000 people can be on the sand at any one time. The series came about when Michael Cordell was approached by a young filmmaker, Ben Davies, who had himself been a lifeguard at Bondi. Davies persuaded the lifeguards and the local council who employ them that such a reality series would be an important adjunct to teaching people about beach safety.