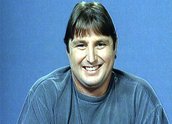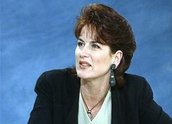 Bookmark – Tim Winton (1995)
Synopsis
Andrea Stretton introduces the wonderful children's books of Jeannie Baker whose then newest work is The Story of Rosie Dock (1995), a magical journey into central Australia. There's also a 1995 film adaptation of Tim Winton's novel, That Eye, the Sky (1986) to discuss, and an update on literary news from around the world.
Curator's notes
The roundtable for the discussion of the stage and film adaptations of Tim Winton's That Eye, the Sky (1986) takes place in a studio, with Tim Winton beamed in by satellite from Perth. He quips that he feels rather like an eye in the sky! Recently, Andrea Stretton recalled that this was one of the first times she had conducted an interview by satellite. In fact, she handles this tricky disembodied interview with great skill.
Tim Winton is one of Australia's foremost writers. He won The Australian Vogel literary award for young writers at age 21 with An Open Summer (1982). He's been short-listed for the Booker Prize with The Riders (1994) and Dirt Music (2001). He won The Miles Franklin Award for Shallows (1984) and Cloudstreet (1991).
Interviewer Andrea Stretton, who passed away in 2007, is best known for her 15 years as a producer and presenter of television arts (1987–2001) on the national broadcasters SBS and the ABC. For 10 years she was presenter, series editor and scriptwriter for The Book Show. After the death of her co-host, Dinny O'Hearn, the program continued as Bookmark, a weekly program about authors from around the world. She also presented Masterpiece (2008), a showcase for international arts documentaries on SBS. Following that, she presented the ABC's arts program Sunday Afternoon from 1998 to 2001.
Stretton was a regular book reviewer for the Sydney Morning Herald, artistic director of the 1998 and 1999 Olympic Arts festivals and was chosen by Prime Minister Keating to work on the Creative Nation cultural policy statement. In 2002, she received the award of Arts and Letters from the French Government for her contribution to arts and culture and for fostering French-Australian relations.