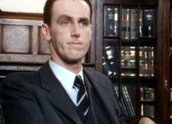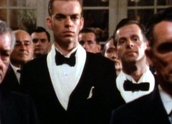 Bodyline (1984)
Synopsis
In the summer of 1932-33, three men of Empire – the brilliant young Australian batsman Donald Bradman (Gary Sweet), the gentleman English captain Douglas Jardine (Hugo Weaving) and the Yorkshire coal miner and fast bowler Harold Larwood (Jim Holt) – would play to enormous crowds across Australia, in the 'Bodyline' test series – so called because of the bowling tactics of the English team. This controversial test series threatened the traditional ties between Australia and the 'mother' country and changed the game of cricket forever.
Curator's notes
Bodyline tells the story of a test series in which the English Captain, Douglas Jardine, instructed his speed bowlers, including the fast bowler Harold Larwood, to bowl at the upper body of the Australian batsmen. This increased the chances of a defensive reaction, which would either expose the wicket or give an easy catch to the fieldsmen. The English team had lost the Ashes to Australia the previous year and Jardine was determined to break the winning streak of Australia's star batsman, Donald Bradman.
It was the height of the worldwide economic depression and as the dole queues swelled and the despairing men took to the road to find work to keep their families housed and fed, sport – especially the British Empire game of cricket – became one of their few distractions. Kennedy Miller tells the bodyline story as the Greeks and Romans told the myths and legends of their great warrior heroes. The heroes in this case being three larger than life cricketing greats and their epic struggle to win the Ashes for their country. Through the telling of this extraordinary story, we learn a great deal about the changing nature of cricket, the stultifying hand of the cricketing bureaucracy and the character of the players who were determined to give their all for their team mates, their captain and their country.