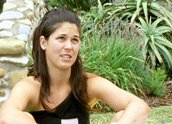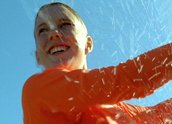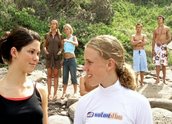 Blue Water High – Winners and Losers (2005)
Synopsis
Six lucky Australian teenage surfers have fought hard to win a place in an intensive, 12-month residential surfing and schooling program at Solar Blue Surf Academy on Sydney's northern beaches. The last minute inclusion of the unknown German kiteboarder Anna (Mara Scherzinger) by Solar Blue executives causes resentment, especially for Bec (Kate Bell). Her older brother Joe (Matt Rudduck) has now lost the chance to compete for the last spot on the team and Bec blames Anna. Anna proposes a private competition with Joe; if he wins, she'll leave. Using his local knowledge, Joe chooses The Gallows, a particularly dangerous location. Despite the treacherous conditions, Anna shows she can surf like a champion and wins the respect of her teammates.
Curator's notes
This is the second episode of the first series of Blue Water High, produced by Southern Star Entertainment in 2005 for the ABC in association with German production company Norddeutscher Rundfunk. The inclusion of a German cast member, fifteen-year-old Mara Scherzinger who plays kiteboarder Anna, and the associated storyline that climaxes in this episode, reflects this international partnership.
Blue Water High's antecedents lie in a cross section of successful Australian teen series. It is a contemporary mix of the ABC's earlier long-running school-based drama Heartbreak High (1999), combined with the dramatic beach setting of Home and Away (2008), and the use of the cutting edge camera techniques and video footage as 'shot' by one of the characters, Heath (Adam Saunders), is after the manner of Short Cuts (2002).
Blue Water High first screened in Australia (ABC) on 18 May 2005, and in Germany (KiKa) on 6 October 2005. The series has sold internationally including France (AB Droits), UK (Five & Cartoon Network), Hungary (Duna TV), Ireland (RTE), Italy (Mediaset), Norway (TV2), Sweden (SVT1), Latin America (Cartoon Network), Belgium (VT4 & Vijf TV), Israel (IETV), Russia (VGTRK), Poland (Canal, Cyfrowy SP Zoo & Telewizja Polska SA), Albania/Macedonia (TVA) and Switzerland (TSI Switzerland).