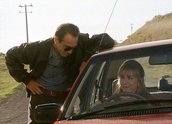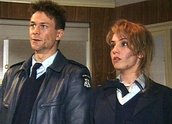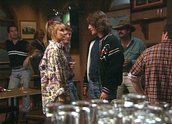 Blue Heelers – A Woman's Place (1993)
Synopsis
Fresh from police training, Constable Maggie Doyle (Lisa McCune) arrives to take up her new post in the country town of Mount Thomas, where the locals call the police 'blue heelers'. As the new kid on the block – and a woman into the bargain – she's challenged with proving herself to her workmates, the town community and new boss Sergeant Tom Croydon (John Wood).
Maggie's first few days are eventful. On her first night she finds herself investigating the captain of the local football team, Bruce McLaren (Josh Picker), for the rape and assault of his girlfriend Sally-Anne (Radha Mitchell). Then there's an unfortunate encounter with a german shepherd alongside ex-boyfriend Constable Wayne Patterson (Grant Bowler) and a drinking competition with smooth-talking Detective PJ Hasham (Martin Sacks) and laconic Inspector Nick Schultz (William McInnes).
Curator's notes
In this jam-packed first episode, Blue Heelers marks out its territory. We're introduced to a country milieu, a story structure that combines police drama with soap elements, to the key locations of police station and pub and to a central 'family' of contrasting characters. Maggie's arrival allows the episode to dive straight into exploring a series of oppositions: city versus country; female versus male; outsider versus small community.
This was the first of two pilots created for the show upon the request of Channel Seven. While this became the series's first episode, the second was never aired. The rejected episode contained a story about a criminal on the run hiding out at the Imperial Hotel. Interactions between the criminal and his brother formed significant parts of the action. After viewing it, the team made a decision to always present action from a police point of view, an approach that was maintained for the rest of the series.
A Woman's Place is episode one of series one of Blue Heelers. It was broadcast on Channel Seven on Tuesday 18 January 1994 at 7.30 pm.