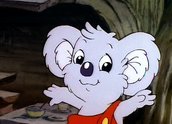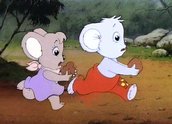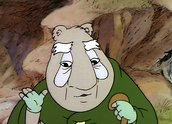 Blinky Bill's Fire Brigade (1992)
Synopsis
This is episode two of the first series of Blinky Bill. When lightning starts a fire in Greenpatch, Blinky (Robyn Moore) decides to set up a fire brigade and enlists his friends to help. They collect everything they need, by fair means or foul and upset a few of the Greenpatch residents. After a couple of false alarms, the fire brigade finally gets a real emergency call and the first person they save from a fire is Blinky Bill.
Curator's notes
Following the success of his children's animated film Blinky Bill The Mischievous Koala (1992), animator Yoram Gross moved into television production, developing the Blinky Bill television series to great acclaim. The TV series takes up where the film leaves off, with the animals recovering from the destruction of their village and beginning again.
Blinky Bill achieved huge success around the world, particularly in Europe but the first series also aroused some controversy in Australia. The opening credits make a strong anti-logging statement, and environmental messages are embedded in the stories in a low-key way. The catchy song 'Save us from that woodchip mill' and the dramatic logging sequence in the opening credits caused some forest industry groups to lobby the ABC arguing that this scene showed illegal wood chipping which was not fair to the timber industry. In the two following series, these song lyrics and the opening credits sequence were different, reflecting the change in storylines and locations.
An adventurous and harmlessly mischievous character, the flawed but vulnerable Blinky gets into lots of trouble but also learns many lessons in his adventures with his friends in Greenpatch Town. The series was inspired by the popular classic Australian children's book written by Dorothy Wall, The Complete Adventures of Blinky Bill (Sydney, Angus & Robertson) which was first published in 1939 and is still in print today.
The 2D animation, with the clearly defined and flat bright coloured characters on top of duller, hand-drawn more textured backgrounds, creates an interesting effect, and is a signature Yoram Gross studio look.
The amazing voice work is by two talented and versatile voice actors Keith Scott and Robyn Moore who voice all the characters. With a diverse repertoire of accents and ages, Scott and Moore have played an enormous range of roles across the Yoram Gross-EM.TV productions. Robyn Moore, the voice of Blinky, also voiced all female characters in the series. Moore had previously voiced all female characters in the five Dot movies, as well as the Flipper and Lopaka (1999), Tabaluga (1997) and the Skippy adventure series (1997). Keith Scott has done many of the male characters for other Yoram Gross animated TV series including Tabaluga, Flipper and Lopaka, Skippy and Old Tom (2001).
Following on from their success on this series, this talented creative team – including producer-director Yoram Gross, executive producers Sandra Gross and Tim Brooke-Hunt, musician Guy Gross, writers and animators Susan and Geoff Beak, scriptwriters John Palmer, David Witt, and animators Susan Beak and Athol Henry – continued on their work in other animation series production.