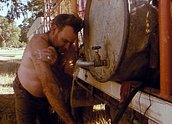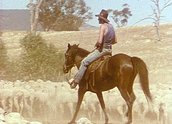 A Big Country – The Drover (1981)
Synopsis
Jack Tawney has been a drover most of his life. He left school at age 13 and has been moving sheep along the 'long paddock' ever since. A Big Country captures a day in the life of this iconic Australian drover.
Curator's notes
By 1981, we begin to see the emergence of an assured documentary form in the best of the A Big Country programs. The Drover captures, probably for the last time in the history of outback Australia, the life of the itinerant bushman. The filmmakers are not afraid to focus on the little things in the drover's day that are the most memorable to city folk who may never have journeyed into the outback.
This program is arresting for the way it captures the lifestyle of the drover. There are long slow takes with an editing style to match the subject: the vast landscape, the huge flock of sheep the drover is in charge of bringing through this drought-stricken country alive, and the patient character and philosophical outlook of a self-taught man.
This episode was first broadcast on the ABC on 11 November 1981.