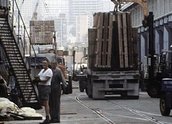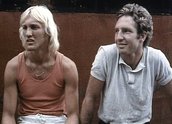 A Big Country – On the Hook (1976)
Synopsis
In the mid-1970s, when this program was made, the waterside workers were in well paid, full-time jobs. Few viewers would have known of their traumatic history and the growth of the union that protects the rights of workers on the wharf. On the Hook tells that story.
Curator's notes
This story of the world of the waterside worker is compellingly told. The film strategically uses magnificent footage shot by the Waterside Workers' Union Film Unit during the 1950s, to fill out the dramatic early history. The union was run by communists then and the filmmaking resembles that of great Russian directors like Sergei Eisenstein, in which the ship owners are portrayed as bloated capitalists and the workers as downtrodden 'honest Joes'. It's a terrible story of exploitation and bullying as we know from oral history accounts and the literature written about the early years on the wharves.
This is an unusual departure for the A Big Country team who usually stuck to the bush. Instead, those in rural areas are taught something about the history of working class city folk, the better for them to understand the reasons for the periodic unrest on the wharves.
This episode of A Big Country was first broadcast on the ABC on 29 March 1976.