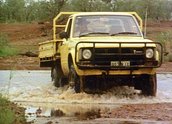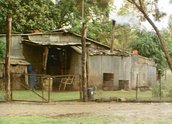 A Big Country – Gulf Battlers (1982)
Synopsis
Elton and Maude are making a go of a cattle station in the Gulf country of northern Australia. It's a tough life in an era before satellite phones and the internet, but this family seem to have pulled it off.
Curator's notes
By 1982 when this episode was made, A Big Country was beginning to take on its signature documentary style. There's more confidence in the observational camerawork and it's less dependent on set-up interviews and staged scenes. Elton and Maude have lived for over 40 years on cattle stations across north-west Queensland. This time the property is theirs and the camerawork captures the small things that make up their existence.
The narration is beautifully written and delivered by reporter Andrew Olle. It is very much in sympathy with the life of this courageous couple, who must treat the weather as a partner in their lives. It's a world completely divorced from that of the city audience for which A Big Country was made, and it's not at all surprising that this pioneering documentary series became such a strong feature in Australian city lives for more than 20 years on ABC television.
This episode of A Big Country first screened on the ABC on 3 November 1982.