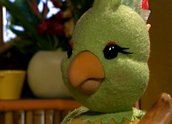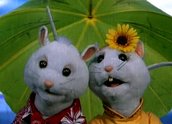 Bambaloo – Bird in a Boat (2002)
Synopsis
Bambaloo is a mixed live-action, puppetry and animation narrative based show for preschoolers. Characters in the world of Bambaloo include the imaginative and playful host Sam (Angela Kelly) and her Muppet-style animals, Fidget the excitable dog (Adam Kronenberg), Jet the shy fish (David Collins), Portia the show-off parrot (Emma de Vries), and Jinx (David Collins) and Gypsy (Roslyn Oades) the clever, constantly hungry and hidden mice. These characters explore each episode's topic through story, song, imagination, and games
This episode is the second water-themed episode and the topic is floating, sinking, and boats. Each of the episode segments contributes to the unfolding of the story about how Portia wants to float but is too afraid to go in a boat.
Curator's notes
This is the second episode in the first series of Bambaloo, a bright and lively co-production combining the Yoram Gross team's notable production experience and skills in children's productions with the world renowned The Jim Henson Company. With a range of new Henson Muppet characters developed for the series, this episode is a typical example of the predictable format, with its entertaining mix of factual information, imagining, exploring and creativity.
Series 1 of Bambaloo was first broadcast on the Seven Network in February 2003.