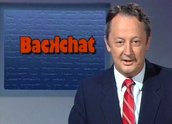 Backchat, Episode 215 (1988)
Synopsis
On this week's Backchat, viewers write in with praise for ABC current affairs programs The World At Six and The World Tonight, programs that copped tough criticism the previous week. There's also viewers' response to the BBC's drama series, Fortunes of War and outrage about a music video clip from a comedy show.
Curator's notes
The ABC's audience has always been diverse, opinionated and keen to write about ABC programs. This made Backchat (1986-1995) fascinating viewing each Tuesday and Thursday evening at 9.20pm for over eight-and-a-half years. The program's popular presenter was Tim Bowden, whose career in journalism began in print before he moved to the ABC. He worked in both radio and television over a career spanning 40 years.
Tim Bowden was selected as the presenter because he had a reputation for witty commentary and good judgement, qualities it was felt he might need as the messenger of both good and bad news for his broadcaster colleagues.