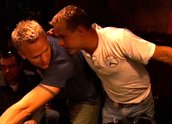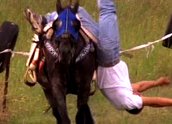 Australian Story – Since Adam Was a Boy (1997)
Synopsis
Adam Sutton is a quintessential cowboy. He's fearless, fun-loving and homosexual. He's a horse wrangler and rodeo rider but the biggest risk he ever took was to reveal the secret of his sexuality to the world.
This is Adam's story from his earliest years – as a prankster kid with a close-knit family and adoring male and female friends, through a troubled period in his late teens when he was sent to jail for culpable driving causing the death of a young man.
Curator's notes
Coming out must always be difficult but coming out in the bush must take a real act of courage. It took Adam Sutton many years to know and accept his sexual orientation – to himself, and to his family and friends. As a boy from the bush he'd never met gay people and was utterly unprepared for the turmoil he experienced over his sexuality.
This is Australian Story at its best. The series gives people space to tell their own stories. Adam's story and that of his parents and sisters is truly riveting – the more so because they are ordinary people with an extraordinary story to tell.
Australian Story has no omniscient narrator, just the voice-over of the participants. At its best, it's great television, when it's less successful, the program can be rather sentimental but that's not the case with Since Adam Was A Boy.