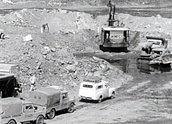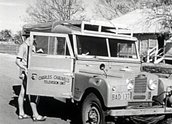 Australian Walkabout (1958)
Synopsis
In this program the Chauvels, on a filmmaking safari of Australia, are travelling through the Northern Territory. They camp outside the small town of Katherine with their filmmaking team, then travel to Rum Jungle for a privileged look inside a uranium mine.
Curator's notes
Charles and Elsa Chauvel were internationally known feature filmmakers. Australian Walkabout was made for the BBC not long after ABC television had begun transmitting in black-and-white in 1956. Their aim was to celebrate the outback of Australia as they travelled through it in the early 1950s, making 13 programs in the series.
The Chauvels' filmmaking expertise is very obvious. The camerawork is beautiful, and the narration crisp and interesting. Elsa's narration in particular brings a warm, personal tone to the film, unusual for the television documentaries of the time. The Chauvels were the first into this safari genre, and it was probably the very first time that urban Australians were able to see their outback in such detail. The content of the film's narration by Charles and Elsa Chauvel is of its time and very dated, nevertheless the subject matter is still fascinating.
There is an innocence of a bygone era about this program. The issues that would later be debated about uranium mining such as contamination of the soil or rivers or the alienation and displacement of the local Indigenous people, are not mentioned in this account. It is fascinating to see all the amenities that a mining town can provide, like a state of the art swimming pool that would otherwise be impossible for outback people, depending solely on farming, to afford.
The series was made in colour for the BBC. The version shown on ABC television in 1959 was in black-and-white. Colour didn't come to Australian television until 1975.