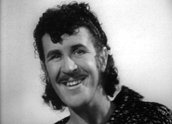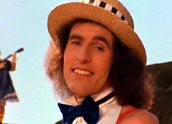 The Aunty Jack Show – Series Two (1974)
Synopsis
In this second series of the sketch comedy show most of the old favourites return from the first series. These include Neil and Errol (Grahame Bond and Rory O'Donoghue) the singing duo on the park bench, Kev Kavanagh (Grahame Bond) the New Age butcher from Wollongong, not forgetting Aunty Jack herself (Grahame Bond) and Thin Arthur (Rory O'Donoghue) with Kid Eager (Garry McDonald) and the first appearance of Norman Gunston (Garry McDonald) with his memorable What's On In Wollongong.
Curator's notes
Much of the creative team for this show met at University of Sydney where they wrote and performed for architecture revues. They were Geoff Atherden, best known as the writer of Mother and Son and Grass Roots, Rory O'Donoghue who went on to front the channel Nine children's show Razzle Dazzle, and Grahame Bond who performed in Boys Own Macbeth, became an advertising executive and followed that with several years on Seven's Better Homes and Gardens. This series introduces Garry McDonald, an emerging comedy talent who replaces John Derum, a talented and versatile professional, and sees the return of the wonderful Sandra McGregor from series one. The director-producer was Maurice Murphy, a rising star in the ABC who'd been sent to the BBC to learn how to make comedy. This was his first foray into the genre after his return to Australia.
Grahame Bond once explained that they had complete freedom to write and perform Aunty Jack as they wanted. Only later did they find out that this creative freedom came at a price. Maurice Murphy, employed by the ABC as the show's producer and director was fighting with ABC management over every line in every sketch until he stumbled upon the perfect foil. He'd burst into tears in the office of some senior bureaucrat and as he slyly observed, 'grown men can't bear to see a half-grown man cry'.