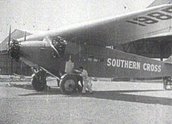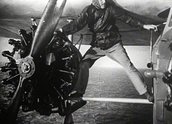 An Airman Remembers (1964)
Synopsis
Sir Gordon Taylor, one of the great aviation pioneers of Australia, presents this documentary. He delivers his story about the history of Australian aviation in the manner of a public lecture or an after-dinner speech, interspersed with archival footage of some of the great moments and figures in Australia's aviation history, including: Sir Charles Kingsford Smith, the original airman, Lawrence Hargreaves, and one of the founders of Qantas, Sir Hudson Fyshe.
Curator's notes
This is one of the earliest documentaries made by the ABC. It's primitive in style, utterly unadorned and yet it's fascinating to watch this compelling history of Australian aviation unfold.
Sir Gordon Taylor is the on-screen narrator. He's a true Australian hero, laconic and low key. He was a fighter ace in the First World War and one of the pioneers of aviation in Australia and he tells his story with all the understatement we've come to expect of the truly heroic. Inserted into the story are some great moments of archival footage from the earliest days of flying.