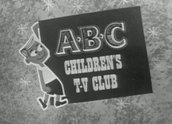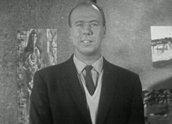 ABC Children's TV Club – Monday Showcase (1961)
Synopsis
Monday Showcase is a magazine-style program for children from the series ABC Children's TV Club. This episode opens with the continuing story of 'Aroora the Red Kangaroo' (by Leslie Rees) followed by Phidias and his Art Gallery, an art appreciation segment which features viewers' work analysed by artist Jeffrey Smart. Then a short film features presenter June's experiences in Spain, and a young visitor displays his shell collection as part of 'a series of unusual collections'. The program also introduces the first episode of insert serial Felix the Cat (1958–61).
Curator's notes
ABC Children's TV Club owes much to the long-running iconic children's radio series, The Argonauts. This popular radio program was broadcast nationally on ABC radio from 1933 to 1961, as part of the ABC's Children's Session and then Children's Hour (1954–72). The Argonauts was a club for Australian children aged 7–17, which by 1950 claimed 50,000 members. Many prominent, Australians boasted membership including Rolf Harris, Barry Humphries, Hilary McPhee and Dame Joan Sutherland. The program also featured a range of presenters, many of whom were leading experts in their fields, who would talk about their specialties, particularly in relation to the contributions of Argonauts listeners.
Carrying on this tradition, ABC Children's TV Club began in 1959 as a magazine-style program screening nationally on weekdays from 5.00–6.00 pm. Each day of the week featured a different program title introducing a variety of overarching program themes and related content. The series also featured an array of 'expert' presenters previously associated with The Argonauts, including artist Jeffrey Smart, who appears in this episode as Phidias.
Monday Showcase was aimed at older children, including segments on art with Bill Salmon and Jeffrey Smart, a book review by John Gunn, Adventures in Stamps with Barry Brown, Looking at Film with Bill Collins and Spying on Nature with Roy Kinghorn. Storybook on Tuesdays featured stories for younger children and craft demonstrations, such as how to make glove puppets. Wednesday Wonderbox was hosted by Patricia Lovell and featured the first incarnation of Mr Squiggle (see also Mr Squiggle and Friends – Episode 148, c1960) as well as Bill the Steam Train and excerpts from the film series, Tales of the Riverbank (1960–63). On Thursdays, children were entertained by Auntie Flo and others in various fantasy settings in the Sydney studio. The Friday program featured famous English comic puppet Sooty as well as the Gillipops, who were John Ewart, Neva Carr Glynn, Ray Hartley and Jack Allen.
This episode was recorded in black-and-white and broadcast on 3 July 1961. It demonstrates the direct-to-camera hosting style, viewer participation and combination of studio and film segments which made up ABC Children's TV Club. There is a sense also of the importance of Australian content and identity expressed here through the choice of story. The program has a slow and measured pace with lengthy segments, a contrast to the punchy style of much contemporary television. There is also a formality to the presenters compared to the relaxed style of children's TV hosts today. Another children's program broadcast on the ABC in the early days of television was Kindergarten Playtime, which began in 1957 and was replaced by the long-running Play School in 1966.