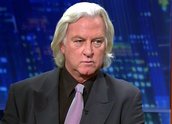 The 7.30 Report – Tobacco Litigation (2003)
Synopsis
This edition of the ABC's prime-time current affairs program begins with an update on the war in Iraq where the two sons of former dictator Saddam Hussein have been killed, and concludes with the largely unknown story of the surrealist movement in Australia. A story about tobacco companies resisting higher payouts and future litigation comes between these two.
Curator's notes
The 7.30 Report began in 1986 as a state based daily current affairs program, becoming a national program in 1996. Each day, the program's producers and presenter meet to decide on the program's line up, although usually the program begins with the breaking news story of the day, with the compere Kerry O'Brien also conducting a studio interview about that lead story. Stories with a longer lead time are filmed and edited as short documentaries, researched, produced and interviewed by reporter/producer teams from around Australia ensuring the national character of the program. There's also a sister program called Stateline broadcast on Friday evenings in the same time slot, with a state based compere and reporters dealing with local issues.
The tobacco-related story is an example of good research, uncovering someone willing to tell such a compelling story and further, how important it is to simply let the person tell their story. Kerry O'Brien is a highly experienced interviewer. The former Tobacco Institute chief executive is keen to get across to the audience that during his tenure the companies never destroyed documents relating to pending or current litigation. Chillingly, he admits that they would destroy any documents that showed the relationship between smoking and health dangers and addiction so long as it wasn't related to a particular court case happening at that time. There's much to ponder here about the ethics of big business.
Broadcast on 22 July 2003.