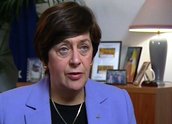 The 7.30 Report – Pneumococcal Vaccine (2003)
Synopsis
This is a good example of an effective 7.30 Report episode. The program begins with a news story from Iraq where seven weeks after the invasion, there are still no signs of the weapons of mass destruction. This is followed by a story from Western Australia where video footage taken at a shopping centre and in a police station show the police using unnecessary violence against suspects. The program concludes with the story about the availability of the pneumococcal vaccine.
Curator's notes
This is a program loaded with heavy hitting stories, from the desperate search for weapons of mass destruction to justify the war in Iraq to the terrible sadness of children smitten with pneumococcal meningitis, that can be avoided with a vaccine that's still extremely expensive. There's a campaign to have the vaccine added to the government's free list of pharmaceuticals.
Broadcast on 17 June 2003.