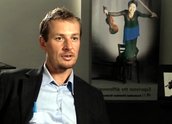 The 7.30 Report - Orchestra Tunes In (2005)
Synopsis
This edition of The 7.30 Report begins with an update from the ABC's Indonesia correspondent, Tim Palmer, reporting from Aceh where he's been on many occasions since the tsunami struck on Boxing Day 2004. This is followed by a story about alternative energy companies and the third item on the program is about the Australian Chamber Orchestra reaching out to involve a Sydney high school in a music education program. The last item of this edition is about the Melbourne Comedy Festival's finals of the cheekiest teenager competition.
Curator's notes
The ABC had a long tradition of state based nightly current affairs programs beginning with This Day Tonight (1967-1978) but as the ABC budget cuts began to bite during the 1980s and 90s, this became too expensive to maintain. The result was The 7.30 Report, a high quality national current affairs program from Monday to Thursday with a state based program in the same time slot on Fridays across the nation. The 7.30 Report commenced in 1986 and is still screening today. This episode, from March 2005, is a representative sample of the program, giving a good idea of the range of subject material and the style of coverage.
Each night The 7.30 Report provides four or five stories across a wide range of national issues. There's usually a studio interview with a leading politician interviewed by the current compere, Kerry O'Brien, followed by a news story from one of the ABC's correspondents from around the country. There's usually at least one story about a social issue like education or health filmed out in the community and the program often finishes with a story on the arts, either a performance or an interview with an artist.
Kerry O'Brien, one of the best known faces on Australian television, began as compere of The 7.30 Report in 1996. He started in newspapers before working for the original nightly current affairs program This Day Tonight (1967-78) out of Brisbane. He's been a senior reporter with Four Corners and compere of Lateline.
Broadcast on 31 March, 2005.