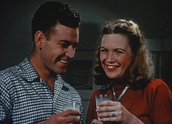 White River of Life (c.1950)
Synopsis
The Milk Board of NSW commissioned this short film to promote the value of milk in the daily diet. It is mostly set during a class at Parramatta Girls' Home Science School. The cooking teacher asks the class to imagine a world without milk. At recess the girls all drink a glass of milk. The students prepare milk-based foods as the teacher lectures them about the goodness of milk, what it contains, who should drink it, and how it helps young bodies grow. The film offers the housewife tips on how best to handle and store milk in the home. Milk also keeps the skin in good condition and helps the body stay strong and healthy. The film ends with the daughter home from school, talking to her parents about the good qualities of milk.
Curator's notes
The NSW Department of Education made the facilities at Parramatta Girls' Home Science School available to Conquest Pictures for the making of White River of Life. The film promotes a regular daily intake of milk by all members of society, including young people, athletes, dancers and models, and suggests housewives cook with milk. This short film may help explain how Australians ended up with such a high dependence on milk and milk-based products in our daily diet (see also Take the Tempo from the Teeth, 1948, made by the same company for the Milk Board).
The Milk Board screened films like this to both potential milk consumers and producers. In 1950, the Milk Board Annual Report notes 75 screenings for producers and 41 screenings for consumers, with an estimated total audience of 5000 people. Screenings were held for milk producers in rural localities and during Health Week for schoolchildren. In 1950, the Milk Board also set up a major display at the Royal Easter Show in Sydney and screened their films to a general audience.
It was common in the postwar period for advertisers to emphasise the health and nutritional value of their products. Other examples include cheese (Kraft Cheddar Cheese Cinema Advertisement: Your Daily Diet, c1947) and Vegemite (Vegemite Cinema Advertisement: Sister Knows Best, c1948). This film was made at a time when production of Australian feature films was almost non-existent. Instead, there was an increase in non-fiction films such as sponsored documentaries (see also Commonwealth Bank – The School Bank, 1951).
The school in the film is now Macarthur Girls' High School, on the Parramatta River. It's been through many changes of name since it was founded in 1933, including the Parramatta Home Science School (1946–52) and the Parramatta Secondary Home Science School (1953–58). The State Archives and Records Authority of NSW dates this film as being made somewhere between 1950 and 1955 when the school had a home science focus. It became Macarthur Girls' High School in 1959.